Reclaim, Rebalance and Renew your life. Come experience the Sonrisa difference.
An AVEDA Salon & Spa and Kansas City's only certified Green Spa
Sonrisa is proud to offer AVEDA, Kevin Murphy, Olaplex, DevaCurl and Osmosis Skin Care product lines. We are Kansas City Missouri's only certified Green Spa and the only Spa that is a member of The National Wellness Institute in the United States.
At Sonrisa Salon & Day Spa we believe that your journey to beauty, health and well being should complement your overall wellness goals. Our products are environmentally safe and we use plant based natural or organic products and treatments wherever possible. Stress reducing rituals and experiences are part of each service.
Our passion is customized service excellence for every client, every time!
Sonrisa Salon & Day Spa is an AVEDA Salon and Spa. We are the only Green Certified AVEDA salon and spa in the Kansas City region. Sonrisa is the leading provider of all natural hair, skin and body treatments as well. Sonrisa is proud to be one of only 92 members of the international Green Spa Network and the only member of the Green Spa Network in Kansas City, Missouri. Come experience the Sonrisa difference.
Meet Manuel our new Massage Therapist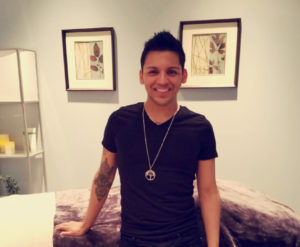 Manuel is offering several massage specials to introduce his services
45 minute Swedish Massage with aromatherapy regular price $75 intro price $55
60 minute Deep Tissue Massage with energy therapy regular price $105 intro price $90
75 minute Hot Stone Massage regular price $115 intro price $100
Call the front desk at (816) 746-4772 to book your appointment today!